New Office for ARCs - the National Immigration Agency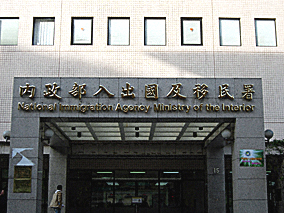 There is a new office which handles ARCs for foreign teachers in Taiwan, the National Immigration Agency. Addresses for each office are listed at the bottom of the page.
Previously, our ARCs were issued by the Foreign Affairs Police.
目前在台的外籍人士所持有的外僑居留證改 由內政部入出國及移民署所承辦,而非以往的警察局外事課/科。
The new agency opened on January 2nd, 2007. The agency itself was inaugurated and all 25 offices were opened on that same day.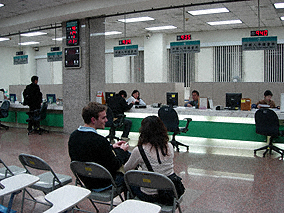 The offices are open 5 days a week 8am-5:30pm and do NOT close for lunch.
此新的承辦單位於2007年1月2日正式上路,且於全台灣共設有25個承辦地點。
辦公時間為週一至週五早上八點至下午五點半且中午仍照常辦公。
If you already have an ARC, any changes and amendments to it – if you added a second school, for instance – will now be handled by the National Immigration Agency. If you are getting an ARC these are the offices you will go to.
如果您已經持有外僑居留證,而且需要做任 何的修正、更新,例如:新增第二個工作,則必須前往內政部入出國及移民署辦理。同樣地,尚未有外僑居留證並需申請者,仍需前往上述地點辦理。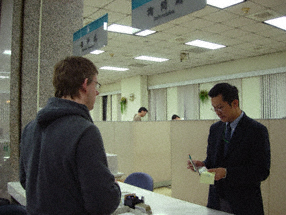 Beyond ARCs, as far as teachers & direct impact go, there is household registration. The NIA points out that when teachers move, we should go to the NIA office in our new neighborhood and update our address within 15 days. (Citizens also have to do this when they move - at the office of Household Registration Office within 4 months.)
除了外僑居留證對於外籍教師有直接影響外,還有戶政登記。內政部入出國及移民署表示當外籍教師搬遷時,需在15天內前往其所在地之承辦地點更新地址。(中華民國公民若有任何搬遷,同樣也需要到戶政事務所更新資料,但期限則為四個月內。)
The staff for the NIA numbers some 2,300. Many employees from the Foreign Affairs Ministry and the Foreign Affairs Police were transferred into the NIA.
內政部入出國及移民署共有2,300位員工,而多數的人原本是在外交部領事事務局與警察局外事課/科任職。
The agency itself falls under the jurisdiction of the Ministry of the Interior.
入出國及移民署之所屬單位為內政部。
Officials assert that the impetus for creating the agency arose from the government's need to provide a single, streamlined resources for Taiwan's growing immigrant population. Latest government figures show that twenty percent of all marriages in Taiwan involve foreign spouses, with 12% of all births occurring to such couples. While such demographic shifts may or may not be affecting you directly, these changes have caught us in their undertow nonetheless, and we find ourselves at the office of National Immigration Affairs when it comes to all things ARC.
政府單位表示之所以成立入出國及移民署是為了服務台灣逐漸成長的移民人口。根據統計,外籍配偶的人口約佔20%,而這些外籍配偶之新生兒則佔了12%。雖然這些改變並不會直接影響到外籍教師,但內政部入出國及移民署將是有任何外僑居留證需要變更的外籍教師需要前往辦理的地方。
In general terms, an ARC is the final step in the process of getting hired to teach English in Taiwan. In most cases those steps are:
一般情況下,外僑居留證通常是最後一個申請許可在台從事英語教學工作的程序,申請許可之程序如下:
Steps辦理流程
Work Permit工作許可 > Resident Visa居留簽證 > ARC居留證
Office承辦單位
Minister Of Labor勞動部/Ministry of Education教育部 > Bureau of Consular Affairs, Ministry of Foreign Affairs, R.O.C. or R.O.C. Overseas Mission 外交部領事事務局中華民國駐外單位 或 外交部領事事務局 > Local Offices of the National Immigration Agency 內政部入出國及移民署
Documents Required For a Bushiban 所需文件 補習班
( Ministry of Labor勞動部 )
Application form(s)
School owner's ID, the certificates of the school registration/business registration, copy of the license for specially permitted businesses
Copy or photocopy of the employment contract
Name List of the employed foreign workers (2 copies)
Photocopy of the passport and the education diploma of the employed foreign worker.
Original receipt for examination fee (NT $500 per case)
Weekly course schedule for each classroom
The valid physical examination documents issued within 3 months of the employment date by the competent health authority
Name list of the current Chinese and foreign teacher of the supplementary school
Photocopy of the employed foreign teacher's qualified teacher certificate (For those who are graduated from collage only)
All photocopy documents shall be noted as same as the original and be sealed with company or owner's seal.
When changing employer, the new employer shall submit an application form, document for transfer, photo copy of the ex-employer' work permit and photo copy of the latest years' income tax proving documents
申請書。
補習班負責人之國民身分證、補習班立案登記證明或商業登記證明、特許事業許可證等影本。但無特許事業許可證者或商業登記者,免附。
聘僱契約書影本或副本。
受聘僱外國人之名冊(一份)。
受聘僱外國人護照影本及學歷證書影本。
審查費收據正本(每一申請案新台幣伍佰元整)。
每間教室每週課程表。
聘僱日前三個月內衛生主管機關規定之合格健康檢查證明文件。
補習班現有中外籍教師名冊。
受聘僱外國人語文師資訓練合格證書影本(未取得學士學位者須檢附)。
若上述資料及證明文件係為影本者,應加註「與正本相符」之文字,並加蓋申請單位及負責人章。
若屬轉換雇主,由新雇主提出申請,須加附離職證明文件、原聘僱許可函影本及最近年度之綜所稅納
稅證明影本。

Time from Application to Completion
申辦完成所需時間
7-10 days
7-10天

Who Picks Up
由誰領取證件
Employer
雇主
Documents Required For a Public School 所需文件 各級學校
( Ministry of Education 教育部 )
Two copies of the application form.
A photocopy of the employment contract stating the position title of the foreign teacher to be employed and the period of their employment.
A photocopy of documentary evidence of the highest level of education of the foreign teacher to be employed.
A photocopy of the passport of the foreign teacher to be employed.
Any other documents designated by the competent authority.
申請書一式二份。
載明受聘僱外國教師之職稱及聘僱期間等事項之聘僱契約書影本。
受聘僱外國教師最高學歷證明文件影本。
受聘僱外國教師之護照影本。
其他經主管機關指定之文件。

Time from Application to Completion
申辦完成所需時間
7-10 days
7-10天

Who Picks Up
由誰領取證件
Employer
雇主
( Bureau of Consular Affairs, Ministry of Foreign Affairs, R.O.C. or R.O.C. Overseas Mission 外交部領事事務局中華民國駐外單位 或 外交部領事事務局 )
A passport valid for at least six months
A completed application form with one photo;
Supporting documents or official letters of approval from a competent authority of the ROC; and
Other relevant documents.
簽證申請表1份並黏貼6個月內2吋彩色照片2張。
申請人須親自簽名確認,表格可自本局網站下載,或向本局或駐外館處簽證櫃臺索取。
護照正本及影本1份。
護照效期須為6個月以上且有空白頁。請影印含照片在內之護照基本資料頁。
中央主管機關之聘僱許可函正本及影本1份(正本驗畢退還)。
聘期自簽證申請日起須6個月以上。
請參考行政院勞工委員會「外國專業人員工作許可專區」。
其他視個案要求提供之文件。

Time from Application to Completion
申辦完成所需時間
At least 7 days
7天以上

Who Picks Up
由誰領取證件
Foreign teacher
外籍教師本人
( Local Offices of the National Immigration Agency 內政部入出國及移民署 )
A passport valid for at least six months
Resident Visa
Work Permit
On-the-job certificate
1 photo 2 inch
Multiple-purpose Application Form for Foreign Residents
護照正本及影本1份。
護照效期須為6個月以上
居留簽證
工作證
在職證明
兩吋照片一張
外國人居留停留案件申請表

Time from Application to Completion
申辦完成所需時間
7 days
7天

Who Picks Up
由誰領取證件
Receipt holder or Foreign Teacher with his/her passport
持收據者或外籍教師本人持護照
Documents Required
For a Bushiban
所需文件
補習班

Documents Required
For a Public School
所需文件
各級學校

Work Permit

Ministry of Labor
勞動部

Application form(s)
School owner's ID, the certificates of the school registration/business registration, copy of the license for specially permitted businesses
Copy or photocopy of the employment contract
Name List of the employed foreign workers (2 copies)
Photocopy of the passport and the education diploma of the employed foreign worker.
Original receipt for examination fee (NT $500 per case)
Weekly course schedule for each classroom
The valid physical examination documents issued within 3 months of the employment date by the competent health authority
Name list of the current Chinese and foreign teacher of the supplementary school
Photocopy of the employed foreign teacher's qualified teacher certificate (For those who are graduated from collage only)
All photocopy documents shall be noted as same as the original and be sealed with company or owner's seal.
When changing employer, the new employer shall submit an application form, document for transfer, photo copy of the ex-employer' work permit and photo copy of the latest years' income tax proving documents
申請書。
補習班負責人之國民身分證、補習班立案登記證明或商業登記證明、特許事業許可證等影本。但無特許事業許可證者或商業登記者,免附。
聘僱契約書影本或副本。
受聘僱外國人之名冊(一份)。
受聘僱外國人護照影本及學歷證書影本。
審查費收據正本(每一申請案新台幣伍佰元整)。
每間教室每週課程表。
聘僱日前三個月內衛生主管機關規定之合格健康檢查證明文件。
補習班現有中外籍教師名冊。
受聘僱外國人語文師資訓練合格證書影本(未取得學士學位者須檢附)。
若上述資料及證明文件係為影本者,應加註「與正本相符」之文字,並加蓋申請單位及負責人章。
若屬轉換雇主,由新雇主提出申請,須加附離職證明文件、原聘僱許可函影本及最近年度之綜所稅納
稅證明影本。

Time from Application to Completion
申辦完成所需時間
7-10 days
7-10天

Who Picks Up
由誰領取證件
Employer
雇主

Ministry of Education
教育部

Two copies of the application form.
A photocopy of the employment contract stating the position title of the foreign teacher to be employed and the period of their employment.
A photocopy of documentary evidence of the highest level of education of the foreign teacher to be employed.
A photocopy of the passport of the foreign teacher to be employed.
Any other documents designated by the competent authority.
申請書一式二份。
載明受聘僱外國教師之職稱及聘僱期間等事項之聘僱契約書影本。
受聘僱外國教師最高學歷證明文件影本。
受聘僱外國教師之護照影本。
其他經主管機關指定之文件。

Time from Application to Completion
申辦完成所需時間
7-10 days
7-10天

Who Picks Up
由誰領取證件
Employer
雇主

Resident Visa

Bureau of Consular Affairs, Ministry of Foreign Affairs, R.O.C.
or
R.O.C. Overseas Mission
外交部領事事務局中華民國駐外單位 或 外交部領事事務局

A passport valid for at least six months
A completed application form with one photo;
Supporting documents or official letters of approval from a competent authority of the ROC; and
Other relevant documents.
簽證申請表1份並黏貼6個月內2吋彩色照片2張。
申請人須親自簽名確認,表格可自本局網站下載,或向本局或駐外館處簽證櫃臺索取。
護照正本及影本1份。
護照效期須為6個月以上且有空白頁。請影印含照片在內之護照基本資料頁。
中央主管機關之聘僱許可函正本及影本1份(正本驗畢退還)。
聘期自簽證申請日起須6個月以上。
請參考行政院勞工委員會「外國專業人員工作許可專區」。
其他視個案要求提供之文件。

Time from Application to Completion
申辦完成所需時間
At least 7 days
7天以上

Who Picks Up
由誰領取證件
Foreign teacher
外籍教師本人

Bureau of Consular Affairs, Ministry of Foreign Affairs, R.O.C.
or
R.O.C. Overseas Mission
外交部領事事務局中華民國駐外單位 或 外交部領事事務局

A passport valid for at least six months
A completed application form with one photo;
Supporting documents or official letters of approval from a competent authority of the ROC; and
Other relevant documents.
簽證申請表1份並黏貼6個月內2吋彩色照片2張。
申請人須親自簽名確認,表格可自本局網站下載,或向本局或駐外館處簽證櫃臺索取。
護照正本及影本1份。
護照效期須為6個月以上且有空白頁。請影印含照片在內之護照基本資料頁。
中央主管機關之聘僱許可函正本及影本1份(正本驗畢退還)。
聘期自簽證申請日起須6個月以上。
請參考行政院勞工委員會「外國專業人員工作許可專區」。
其他視個案要求提供之文件。

Time from Application to Completion
申辦完成所需時間
At least 7 days
7天以上

Who Picks Up
由誰領取證件
Foreign teacher
外籍教師本人

ARC
居留證

Local Offices of the National Immigration Agency (See tealit's article about the NIA and teaching in Taiwan)
內政部入出國及移民署

A passport valid for at least six months
Resident Visa
Work Permit
On-the-job certificate
1 photo 2 inch
Multiple-purpose Application Form for Foreign Residents
護照正本及影本1份。
護照效期須為6個月以上
居留簽證
工作證
在職證明
兩吋照片一張
外國人居留停留案件申請表

Time from Application to Completion
申辦完成所需時間
7 days
7天

Who Picks Up
由誰領取證件
Receipt holder or Foreign Teacher with his/her passport
持收據者或外籍教師本人持護照

Local Offices of the National Immigration Agency (See tealit's article about the NIA and teaching in Taiwan)
內政部入出國及移民署

A passport valid for at least six months
Resident Visa
Work Permit
On-the-job certificate
1 photo 2 inch
Multiple-purpose Application Form for Foreign Residents
護照正本及影本1份。
護照效期須為6個月以上
居留簽證
工作證
在職證明
兩吋照片一張
外國人居留停留案件申請表

Time from Application to Completion
申辦完成所需時間
7 days
7天

Who Picks Up
由誰領取證件
Receipt holder or Foreign Teacher with his/her passport
持收據者或外籍教師本人持護照